The sake that shines in the heart
Sanuki seems to have been making sake from ancient times, and the liquor building was prosperous and highly evaluated. It was a very delicious sake that brought a glow to people's hearts and bodies.
We will inherit the intention of making this sake, and send the impression that shines to everyone, and I want to cheer up the sake of the Sanuki while working together and cooperate occasionally.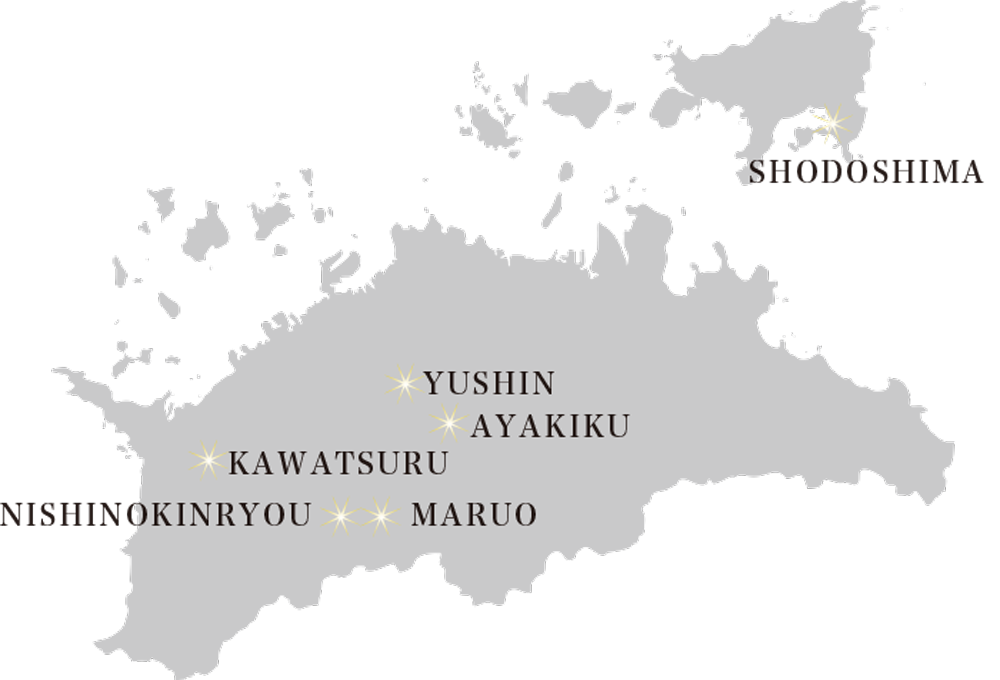 ---
MORI

MORIKUNI Sake Brewery Co., Ltd.
Established in 2005.
MORIKUNI SHUZO is the only sake brewery on Shodoshima. The company revived sake making on the island in 1970 after a blank of 35 years during which there was no locally brewed sake. With our sights always set on the future, we are pursuing ideal sake brewing while treasuring Shodoshima and preserving the island's traditions. MORIKUNI SHUZO proposes a pleasant and comfortable lifestyle enriched by Japanese sake. We aim to be a new type of brewery where people gather from all over Japan in search of new encounters.
→See more
1010-1, Magi-kou Shodoshima-cho Shodoshima-gun, Kagawa, 761-4426, Japan
TEL :+81879-61-2077
mail:info@morikuni.jp
HP:https://www.morikuni.jp/
---
AYAKIKU

AYAKIKU Sake Brewery Co., Ltd is.
Established in 1790.
The company maintains the producing process, and the company communicates to local rice farmers know the best harvest season. For the best harvest and making the best sake, we will continue to inherit the traditional technique and the traditional communication with perfect farmers.
3393-1, Yamada-shimo, Ayagawa-cho, Ayauta-gun Kagawa, 761-2204, Japan
TEL :+8187-878-2222
mail:order@ayakiku.com
HP:http://www.ayakiku.com/
---
YUSHIN

Yushin Brewer Co., Ltd is.
Established in 1854.
We produce our sake close to the rich nature of Kagawa. With our brewing fermentation technology delicately intertwining the natutal conditions such as rice,fungus and weather,and our advanced research and development,we will continue to deliver the natural benefit fo aii over the world.
→See more
2088-1,Ono, Ayagawa-cho, Ayauta-gun, Kagawa,761-2307, Japan
TEL :+8187-876-4111
mail:syuhan@yushin-brewer.com
HP:https://www.yushin-brewer.com/
---
GAIJIN

MARUO HONTEN limited company.
Established in 1885.
Our sake is named "GAIJIN".We use steaming basket made by wood and japanese caldron to make steamed rice.
It takes a lot of time and effort to brew "Junmai Daiginjo" and "Junmaishu".Our sake is unfiltered and made without using any charcoal at all.
→See more
93, Enai, Kotohira-cho, Nakatado-gun, Kagawa, 766-0004, Japan
TEL :+81877-75-2045
---
KINRYO

NISHINOKINRYO CORP.
Established in 1789.
As the Konpira Sake of Sanuki, we have been brewing sake over 220 years in quality first. The spirit of Kinryo has been transmitted all the time.
With our motto "Sake brewing reflect the heart of brewer. Sake brewing is accomplished only by cooperation of the members. Sake shines by itself when you keep the brewery clean.', we have been carefully selecting the ingredients and aiming for the best sake brewing.
→See more
623, Kotohira-cho, Nakatado-gun, Kagawa, 766-0001, Japan
TEL :+81120-64-1336/+81877-73-4133
mail:mail@nishino-kinryo.co.jp
HP:https://www.nishino-kinryo.co.jp/
---
KAWATSURU

Kawatsuru Sake Brewery Co., Ltd.
Established 1891.
Our sake is named Kawatsuru (lit. "river crane"), from the time our founder saw a beautiful crane flutter down to the pristine waters of the Saita River. This river is also knows as the Takarada River, as its water is seen as bringing treasures to the surrounding rice fields. From the spring water of this river, we brew sake with a powerful, refreshing taste.
→See more
836, Motodai-cho, Kanonji-shi, Kagawa, 768-0022, Japan
TEL :+81875-25-0001
mail:kura@kawatsuru.com
HP:https://kawatsuru.com/
---