Sake rice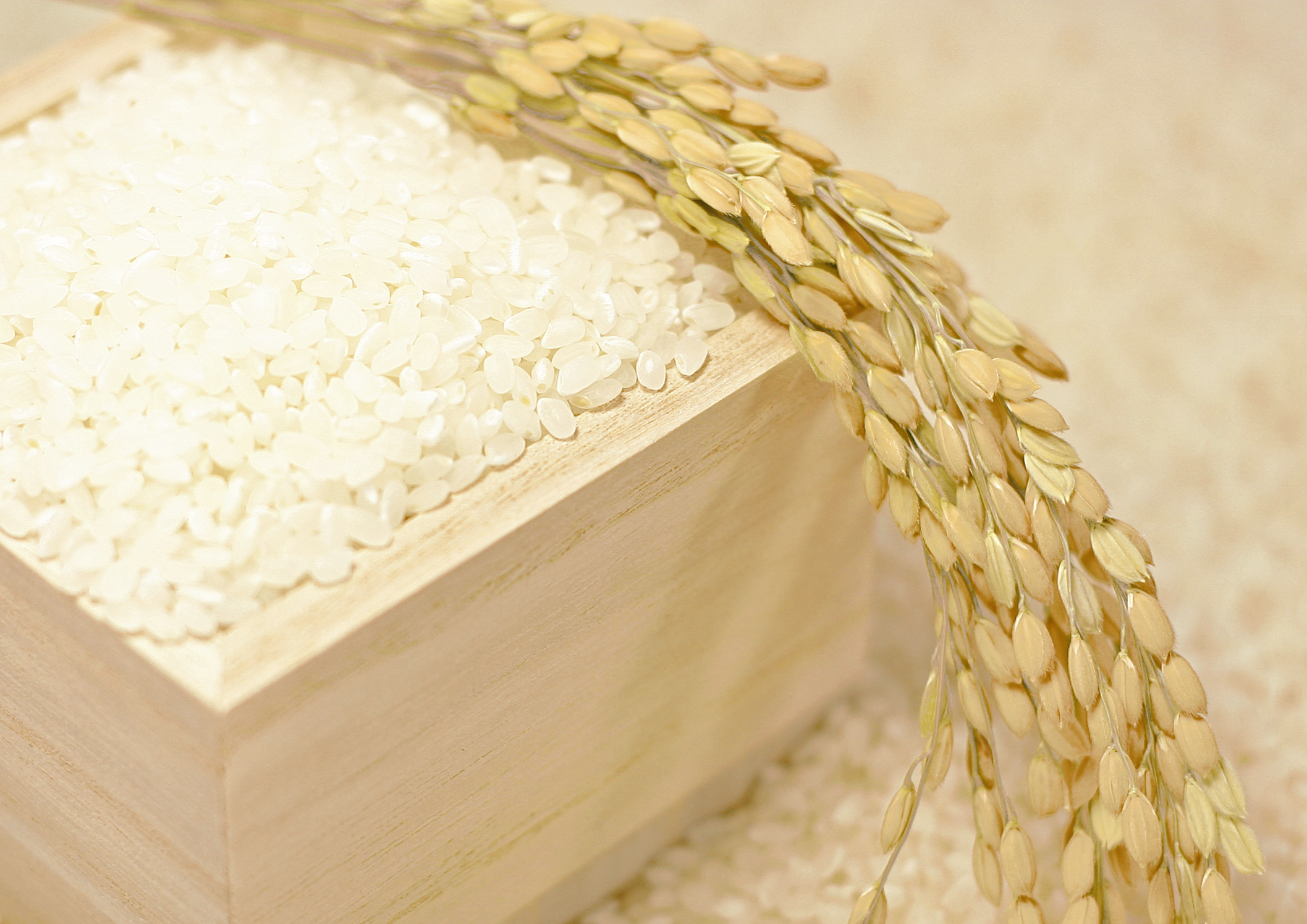 Ooseto
"Ooseto" is a variety for sake rice cultivated in Kagawa Prefecture. It is used for both koji rice (rice for making koji) and hung rice (rice added when stocking koji). It is slightly small, it has no sweetness when eaten as it is, but it is not sticky and the koji mold is easy to enter inside, so it is convenient for sake brewing. Because it is precocious and has a large crop yield, it is also easy to produce. The prefecture as well as the prefecture brewery manufacturers such as Hyogo Prefecture Nada and Kyoto Fushimi are highly evaluated, and many are sold outside the prefecture. Efforts continue to aim at further quality improvement and yield improvement to meet this demand even now in the production area.
| | |
| --- | --- |
| 旬の時期 | 10月~(収穫の時期) |
| 主な産地 | 高松市、丸亀市、善通寺市、観音寺市、三豊市、まんのう町、琴平町 |
"Ooseto" which has excellent characteristics as a raw material for sake. It has been used in Kagawa since 1980. Even today, there are many brewers who use this "Oosetto" as a raw material, and the good balance between price and quality is one of the reasons for getting good reputation. The finished sake has a refreshing fragrance and refreshing feeling, it does not get tired of drinking, so it fits well with the taste of modern people.
Sanuki Yoimai

Jpanese Sake · Kagawa "Sanuki good Mai" was born.
Sanuki 's passion, brewed in a climate ….
Breeding started at Kagawa University's Faculty of Agriculture from 1990 to build Kagawa's original sake rice. It was born from about 1000 thousand individuals by "Ooseto" and "Yamada Nishiki". And in 2006 He was naming "Sanuki Good Mori" by Governor Kamikawa Manabe.
Two decades from the idea … … As a result of the desires of the researcher, Atsushi Fumie, Sanuki Kuran and the nature, culture, climate of the Sanuki, to pass on the Tusuki to everyone – to love, to be loved, to drink sake I will deliver it.
Official page of Sanuki Yoimai
Oidemai
As rice, rice "Oidemai" that was in the climate of Kagawa prefecture was decided to adopt the incentive variety of Kagawa prefecture in November 2010. "Oidemai" in Heisei 25 years, when full-scale cultivation began, We received the highest ranked "Special A" rating in "rice flavor ranking" conducted by the corporation Japan Grain Inspection Association every year. It is the first time that the product variety varieties of Shikoku received evaluation of "special A".
Japanese sake brewing using this "Omoi" is also done in some warehouses.
Water
Water, also known as the father of Japanese sake, is one of the essential elements indispensable for delicious Japanese sake brewery. Kurumoto Kuramoto keeps commitment every day and uses water to produce wonderful sake.
Nishino Kinryo
Hachiman no Onyu
Tadotsu Town Kuzuhara who has a multi Tsud factory pointed to the deep forest of Kuzuhara Hachiman Shrine and a fountain that would not be dirty, "Kuzuhara was called Mori Yachimachi, Ikehachi Town". Located just east of the former Zentsuji road which crosses the former Iyo prefecture. There were three spring springs: Takayuki (Yunoyu), Oni no omo (Onigei), Sansui (Souyuu). This flood has a history over 900 years. I divided the wildcolon among them and naming it as Yawata 's Inui. Each trees of Yawata Forest holds roots and holds water to support Yawata 's incense. It seems to me that the pilgrims of Shikoku pilgrims seek a breath of rest here, cleans their limbs and moisturizes their throats.
The floodwaters of Kanakura River (Kanakuragawa) with Konkura River (Kanakuragawa) as the source of Konbakagawa (Kanakuragawa) as the source of Konbu Daishi repaired, the underwater flow of the Hirota Rivers system from the Elephant Mountain, the two streams meet and became spring water There. It gushes as good water with medium hardness around 6 hardness.
Showaido
Kanakura River flowing water meets Shinto shrine from Elephant Mountain and it has softness of 2 to 3 hardness. The Kanakura River 's source Mannou Pond is famous for Mannou Hotaru, and at the dusk of summer a lot of fireflies are flying in a clean baby.
Kinryo water is water flowing in an extremely shallow aquifer, 3 to 5 m below the surface of the earth. It is filtered by sedimentary layer where the granite has weathered and is graveled, and it is made into excellent purified water.
Kawaru Sake Brewery
Saita River
It flows to the back of the warehouse, the clear flow of fireflies · The river river is also known as the Takarada river in the local area, it is regarded as a source of water to bring treasure to the field. We use underground underground water of that river river as charged water.
Ayakiku Japanese Sake Brewery
Aya River's
Aya River underwater flowing from the Asan Mountains
MORIKUNI Sake Brewery
Aya River's
Shodoshima's highest peak (817 m) It is also one of Japan's three great valleys.
Using the spring water of Hoshigaro near the summit of the mountain,
We manufacture sake as a rice wine store with a rare island nationwide island.
Yushin Sake Brewery
Aya River's
Aya River's underwater water